2018 Hyundai Kona
Head of the class
---
박재승 (james@koreatimes.net)

--
12 Jun 2018 01:28 PM
By James Park
The sub-compact utility market is growing so fast, one can hardly keep track of all the newcomers coming in. It is a young segment and all the players are trying very hard to be distinguished from one another and ultimately get noticed by the customers.
The likes of Honda HR-V, Mazda CX-3, Toyota C-HR, Nissan Qashqai, Ford Ecosport, et al are sprouting around city streets and neighbourhoods like mushrooms after rain, drawing attention to their petite size, hatch-back practicality, all-weather capability and relatively frugal fuel economy.
These so-called 'urban utilities' can tackle potholes and streetcar tracks, have enough ground clearance to gingerly go over what the snow plow has left at the end of the driveway, provide enough room for four adults on their way to grocery stores and so on. No, these vehicles – even with 'utility' in the name – will not be allowed on the Rubicon Trail. They are what they are.
Still, there's no doubt these car-based crossovers are in high demand. And Hyundai, which admittedly has not been as focused in the utility market, is looking to remedy the situation with the all new 2018 Kona. This model is better initial effort than both Tucson and Santa Fe, its bigger siblings.
More than that, the Kona leaps to the top plateau of the segment with class-leading power, attention-grabbing exterior, plethora of options and competitive price. Yes, the Mini Countryman (with turbo four) has more power, but it is also way more expensive. In fact, Mini considers itself a premium brand and does not like to play with 'lesser' rivals.
Exterior wise, the Kona stands out from the crowd. The squinty eye LED lights are reminiscent of the Jeep Cherokee, but the large hexagonal grill makes the Kona appear more aggressive. The lower cladding looks bit overdone but perhaps it suits the overall image of an urban utility vehicle.
The Kona comes in five trims – Essential, Preferred, Luxury, Trend and Ultimate. The price ranges from $20,999 to $31, 999 before taxes and other mandatory fees.
Essential and Preferred come with front-wheel-drive (FWD) as standard and AWD as option. Other trims have AWD as standard.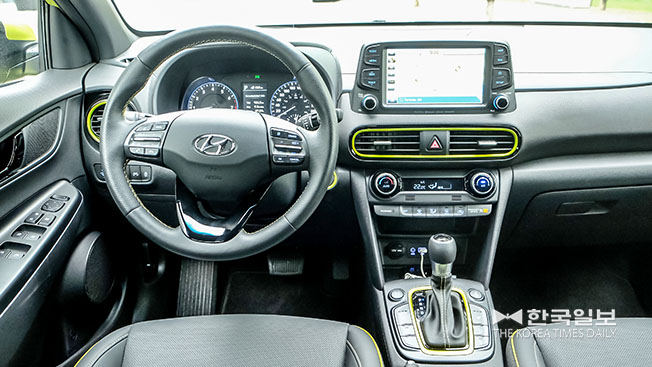 The base 2 litre naturally aspirated four-cylinder engine generates maximum 147 horsepower and 132 lb-ft of torque and is mated to the six-speed automatic transmission. Essential, Preferred and Luxury trims are thus equipped.
The two-litre engine, also found in Elantra sedan, utilizes Atkinson cycle, which focuses more on saving fuel. Ordinary folks would be hard-pressed to tell the difference, though.
The top trims – Trend and Ultimate – get 1.6 litre turbocharged four cylinders that pump out 175 horses and 195 lb-ft of healthy twist. This mill delivers its power via seven-speed dual clutch that is mostly smooth and seamless. It could be little jerky during stop and go traffic, but not enough to be bothersome. Hopefully the DCT in Kona proves to be more reliable than the previous version found in the Tucson.
As for the turbo mill, also providing thrust for other Hyundai models as Tucson, Elantra GT, Elantra Sport and Veloster Turbo, it is peppy and has no problem pushing the relatively light (1,390 ~ 1,517 kg) Kona to highway speed in no time, especially in the Sport mode. There's not much difference between Normal and Eco, however.
The car also handles quite well for the vehicle it is. The suspension seems to be on the firm side but not enough to sacrifice ride comfort. It goes over bumps on the road without upsetting passengers.
The Ultimate trim test-vehicle provided to this writer boasts such amenities as Head-Up Display, keyless entry and push-button ignition, power sunroof, satellite radio, Infiniti audio system, wireless cell-phone charger, navigation, heated seats as well as heated steering wheel, automatic climate control, etc.
It also comes with a battalion of electronic nannies, including blind-spot monitoring, lane-keeping assist, pedestrian detection and automatic braking system. Hyundai is known for high value-for-money quotient and the Kona is no different.
For the 1.6 turbo, the official fuel rating is 9 litres per 100 km in city and 8 litres on highway. This is about middle-of-the-road for the segment. The good news is that turbo engine is okay with regular juice. The two-litre engine with FWD sips 8.6 litres in city and 7 litres on highway. AWD gets 9.2 and 7.8 litres.
With 'look at me' styling, wide range of packaging to suit most consumers' needs, class-leading power and competitive fuel-economy, the Kona jumps to the top of the heap. Maintaining its position there would be the harder task. (James Park is a member of the Automobile Journalists Association of Canada.)
2018 Hyundai Kona Ultimate
Price: $31,999
Engine: 1.6 litre turbo four
Power: 175 hp/195 lb-ft
Transmission: 7-spd DCT
Drive: AWD
Fuel: 9.0 litres per 100km (city), 8.0 litres (highway)
Best: styling, power, trim levels for all
Worst: DCT's reliability yet to be proven
Competition: Honda HR-V, Mazda CX-3, Nissan Qashqai, Ford Ecosport